Share feedback
Thanks for sharing your feedback!
September Product Updates
---
Revamped Help Center in Delhivery One
Users now have a "Help Center" button access on your Dashboard. You can use it to

Raise Support Tickets - for issues related to pickup, shipments, weights, billing and remittances and get response from our support team within 3 hours
Request Callback - for overall account level conversations, billing disputes, training and pricing details
Zoom training - book a training session for Delhivery One based on your calendar availability

---
Search orders with consignee phone number
We have now made it easy for you to look up pending orders from your customers on Delhivery One
Searching with phone number will be accessible to you from your dashboard in

Forward order section
Reverse order section
Shipment listing pages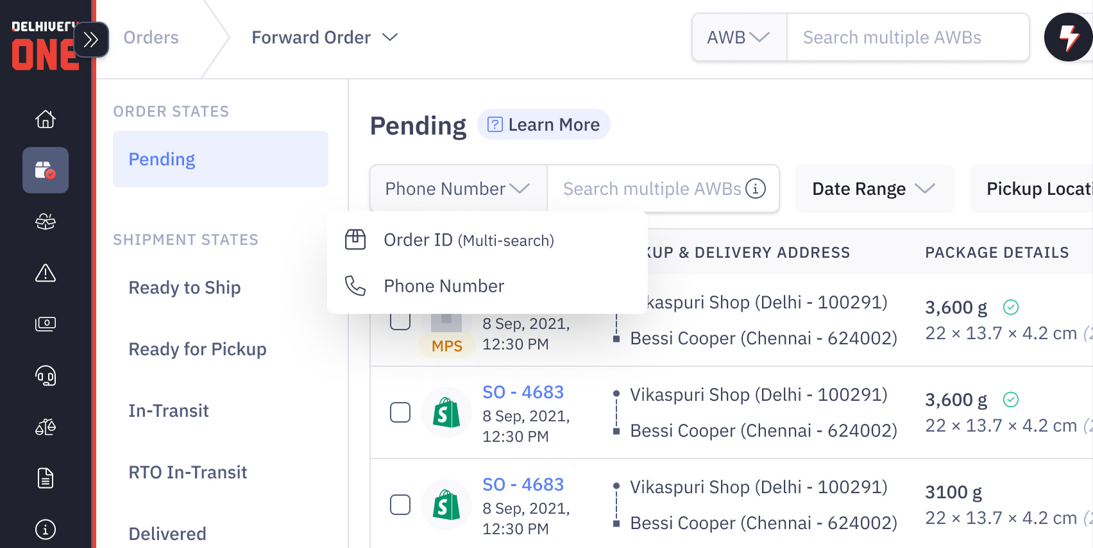 ---
Visibility of upcoming pickups on Dashboard
Users can now track their upcoming pickups on Dashboard.
Users can view Pickup Location Name, status of the Pickup Request (Scheduled, Out for Pickup, Picked, Not Picked) and download Shipping Label/Invoice in a single click for a Pickup Request
Users can view phone number of Field Executive for first pickup request for a new Pickup Location to improve pickup success rate.
Users can also escalate Not Picked / delayed pickup request to ensure priority pickup for the next day. Users can also view phone number of escalated pickup request to improve successful pickup.

---
Was this article helpful?
---
What's Next