Start your Shipping journey with Delhivery One
Start your Shipping journey with Delhivery One
---
Share feedback
Thanks for sharing your feedback!
Welcome to Delhivery One, a digital shipping platform, that meets the diverse needs of both large and small businesses looking to ship their products to customers in India or abroad.
Whether you sell online through your own website, use a sale channels like Shopify or WooCommerce or an e-commerce marketplace like Amazon, Flipkart, or other online channels like WhatsApp, Instagram Store, or even phone orders, Delhivery One helps you ship at any scale or size with the widest coverage across India and the world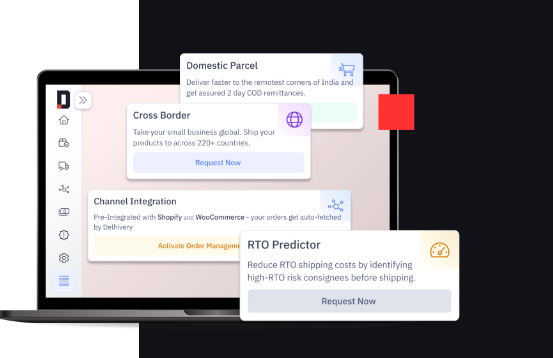 As a shipper, you can use Delhivery One to:
Ship both

domestic

and

international

orders using one single account

Process

bulk eCommerce orders

in a few clicks

Process orders with

API integration

Reduce orders returns by effective

NDR management

Integrate

Shopify & WooCommerce

in One Click

Send post purchase communication to your customers

View and download your reports
Get started with setting up your account on Delhivery One and experience the easiest way to ship by following this step-by-step guide for creating an account to complete your onboarding journey and begin shipping with us.
Set up your account and start Shipping: Sign Up and Logging In
These are the four key steps to send your first order with Delhviery One:
Add your pickup locations
1. Create your account instantly for free
You can start by creating an account on

Delhivery One

by filling in your

Name

,

Email ID

,

Phone Number

, and

Password

.

Click on "

Accept the terms & conditions

" and then proceed to click on

Create Account.
Please note that the email id you use at the time of registration shall be your default email id and cannot be changed at a later stage.
2. Add KYC Details and your Business Address
After signing up, you will be directed to the Delhivery One home page. Click on "Activate your business account"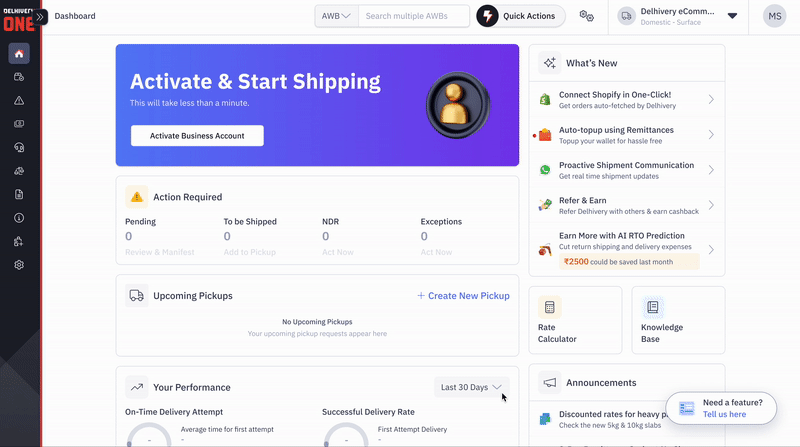 Enter your GST Number and upload your GST document. If you don't have a GST Number, enter your PAN and Aadhaar details to get started.

Enter business information like your

First Name

,

Last Name

,

Business Name

,

Phone number

,

Business Address

,

Pin code

. This will automatically sign the service agreement once you click

Save & Proceed

It will take up to 3 minutes to verify your KYC details.





Once the verification is completed, on your Dashboard page you will see a message "Congrats, your account has been activated".
3. Add your pickup locations
Pickup locations are the physical locations where you are storing your inventory. It is that location from where you would request the Delhivery Team to pick up your shipments for delivery. Learn more on how to Add Pickup Locations in case you are shipping from multiple locations.
Navigate to Main Menu > Settings > Pickup Location > Add a New Pickup Location
4. Recharge your Wallet: Get Started for as low as Rs. 500
In order to simplify your shipping experience with us, the Delhivery One platform has an inbuilt Wallet that gets auto debited everytime you ship an order with us Recharging the wallet is mandatory to ship your orders with Delhivery. Learn how to Recharge your wallet.
A minimum wallet balance of INR 100/- is required to ship domestic orders and INR 2000/- for international orders. You can do a minimum recharge of INR 500/-
To recharge your wallet:
Navigate to

Main Menu > Finances > Wallet > Recharge Wallet

OR

On you Dashboard, on the right hand side, click on "

Recharge

"
5. Add Bank Details: Make Cash on Delivery Remittances Smooth
Delhivery can collect Cash on Delivery amounts from your customer at the time of delivery on behalf of our customers. We then transfer this to you in the designated bank account added by you.
To view and edit your bank details like Account Number, Beneficiary Code, IFSC Code and Bank Name etc.
Navigate to Main Menu > Settings> Bank Details.
You are all set to start shipping your orders now!
---
To learn more, explore other tabs on our home page to get the most out of your Delhivery One experience
Below are a few additional features that you can keep in mind to get started that we provide. These are advanced Settings for optional business requirements you may have:
📦 Order Management: Making an informed choice about how your book your orders with us

Delhivery One has two modes: Order management & Direct Manifestation mode. Learn about both these modes in detail here & choose whichever mode best suits your business needs.
🧑‍💻User management: Managing Access for yourself and your team
Delhivery One allows you to add multiple users from your team who can have access to this platform based on the roles they are assigned. Learn more about User management to delegate your shipping operations.
⚙️Seller creation and configuration
If you have opted for cross border or international shipping with Delhivery, updating seller details is important. Learn more on how to configure sellers on Delhivery One if you plan to ship internationally.
👩‍💻 API Setup

Delhivery One offers solutions for your developers to take advantage of the seamless shipping functionalities for your business. You can connect a 3rd party application/website with Delhivery one using the API Token. Read more about API Setup here.
💸Tax configuration

Delhivery One allows you to create flexible sales tax models using tax classes depending on your local tax laws. Once these tax rules are configured, they are applied automatically to your sale orders. Learn about Tax configuration
🧾Invoice configuration

Easily generate sales invoices for your sales orders directly from the Delhivery One platform. Learn how to configure invoice templates.
---
We hope the above information was useful for you to get started. Do not forget to book our onboarding training from your account confirmation email. If you found this article useful, leave your feedback below for us to improve.
.
---
Was this article helpful?
---
What's Next