Share feedback
Thanks for sharing your feedback!
Overview
To make shipping easy and hassle free, Delhivery One helps you to raise and track all your support tickets, on one platform, covering all issues related to your Domestic Shipping. You get access to a dedicated customer support team with a 3 hour response TAT right at your disposal and get quick resolutions to your queries.
In this article, you will learn about
1. Creating support tickets
There are two ways to create a support ticket.
Navigate - Main Menu > Support > Raise Issue

OR
You can also raise a ticket from Shipments and Pickups tab - Main menu > Forward Shipments / Reverse Shipments

Pickup Requests > Select the required Pickup > Escalate

After raising an issue, a pop up will appear on the screen, select your issue issue category and sub-category and enter the additional information asked in the form like the AWB number(s) or Pickup ID.
You can manually enter a maximum of 10 AWB numbers or bulk upload a .csv or .xls file with maximum 500 AWB numbers to take wider and quicker action
Enter the description of your issue/query and attach any relevant photo for a more accurate resolution.
After entering the details, click on "Raise this issue"
Once you have submitted a support request, we check the status of each AWB or Pickup Request that you have entered and give one of the following results for every ticket
New Ticket Created : If there is no existing ticket against the AWB number or Pickup ID, you will see a new ticket ID generated, which will be assigned to a Delhivery help agent for resolution.This ticket will also be shared automatically with the Operations team if they need to take action.

Ticket Already Exists : If there is an existing ticket for the selected AWB Number / Pickup ID, you can see the existing ticket ID and track its status.

Not Eligible for Ticket Creation : In some cases, instead of creating a ticket, we will share the required information with you on Delhivery One, for e.g., if the order is on track for delivery or pickup or if required action can be taken from Delhivery One like applying reattempt or ticket needs to be raised in a different category, etc.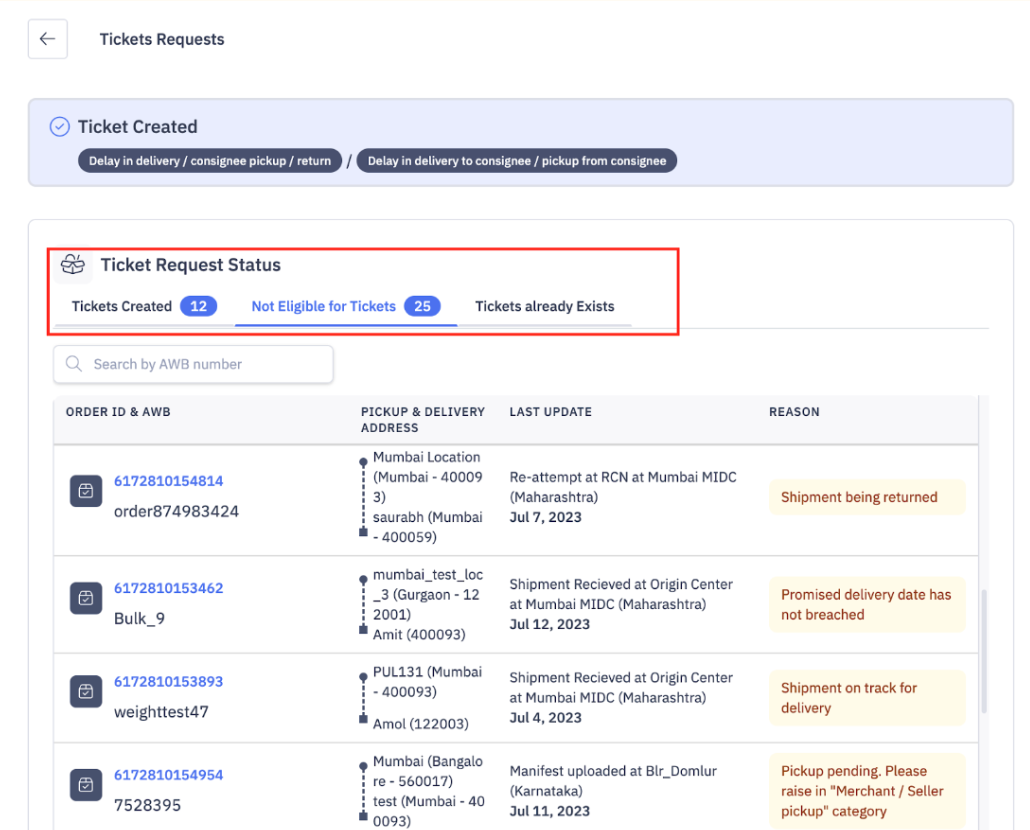 Sometimes, when the number of orders is high, the system can take a little long to process your request. In such cases, you do not need to stay on the Support form, you can close it. We will process your request in the background and you can check the results in the Task Section after a few minutes. (Navigate - Tasks > Ticket Requests).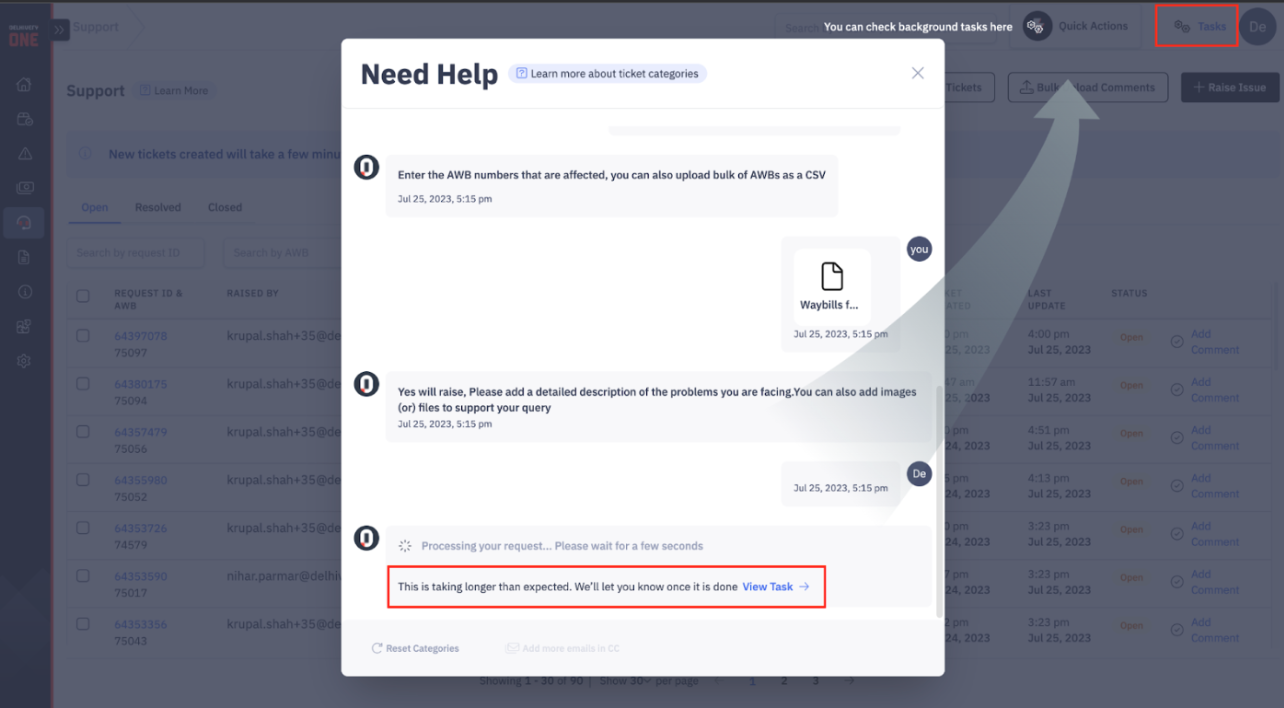 ---
2.How to track my tickets?
Support tickets are placed under three tabs on the support section of the Delhivery One dashboard.
Open: These are the newly created tickets with a ticket ID as an identifier. The Delhivery customer support team responds within 2 hours of an issue raised.
You can add comments to your open tickets. Comments are ongoing conversation with the support team that help you better describe the issue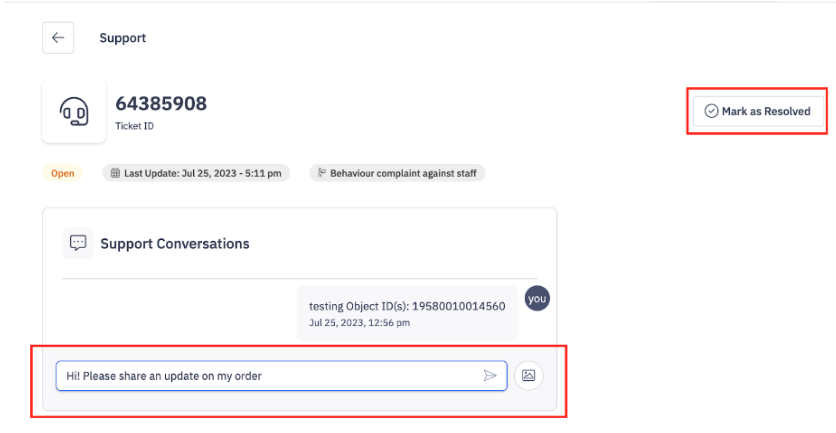 Resolved: These are the tickets which have been resolved by our CS team. You can reopen these tickets if you are not satisfied with the resolution by adding a comment. You can mark an open ticket as resolved. Navigate - Main Menu > Support > Open> Select Request ID > Resolve Ticket
Once the ticket is marked as Resolved, you will have 48hrs of time to reopen the ticket.

Closed: These are tickets that have been resolved and have not been reopened for more than 48 hours.
Once the ticket is marked as Closed, you will not be able to re-open the ticket. If your issue is not resolved, you can raise a new ticket.
---
3. What are Bulk Actions for Support Tickets?
The Delhivery One platform offers two actions that can be taken in bulk for support tickets.
Download support tickets
Bulk upload comments
These actions help businesses resolve a large number of tickets much faster.
Navigate to Main Menu> Support> Click on "download open tickets"
As the pop up appears, tap on "Yes, download csv"
Click on Tasks on the top right side of the dashboard and head to the Ticket Requests tab. Check for Download/Export tickets task title and click on Download ticket file. You'll get a .csv file of all the currently open tickets.
Open the file and upload comments in bulk for these tickets in the column titled Comments. Save this file.
Navigate to Main Menu> Support> Click on "bulk upload comments"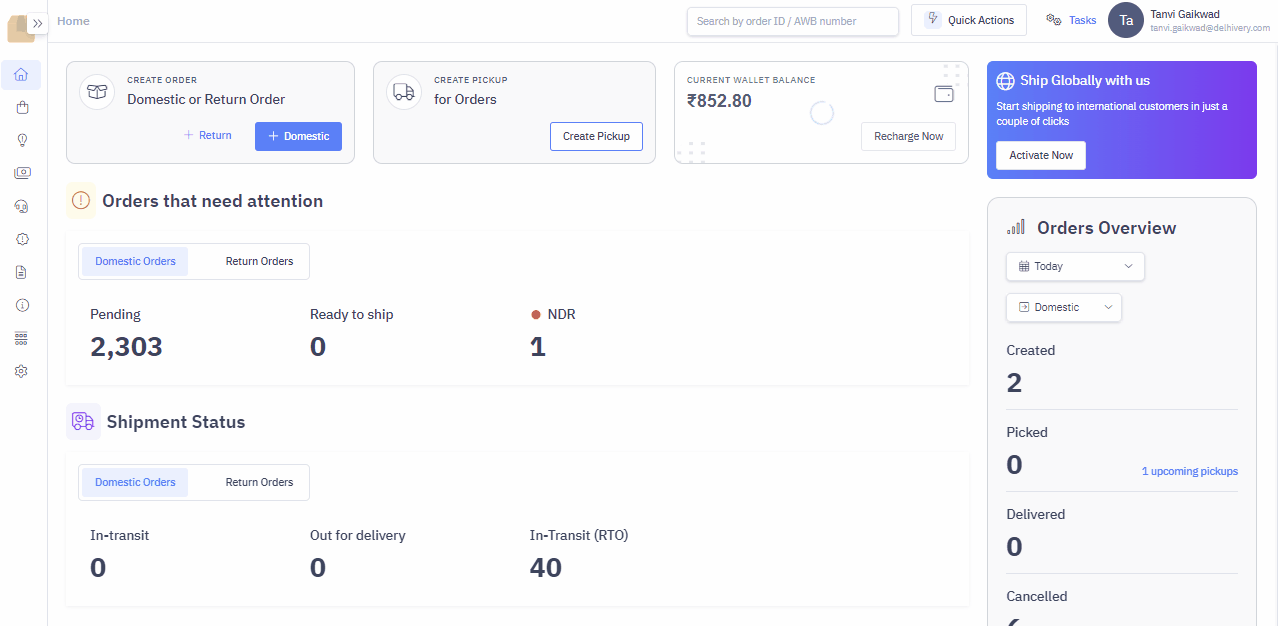 Navigate to Left Menu > Support > Open Tickets > Click Download Open Tickets
Go to right top - Tasks > Ticket Requests
Click Download ticket file for the latest Task Title 'Download/Export Tickets'. This will download a csv file
To upload comments in bulk for these tickets, mention your comments in column "M' of this csv file. Save this file.
Go to Support > Open Tickets > Click Bulk Upload Comments
Upload the updated .csv file to upload your comments in bulk.
Second way to update comments is from Support > Open Tickets

Select the required tickets > Add Comment
These actions can be performed for Resolved tickets. For Closed bucket you can download tickets in bulk but would not be able to update comments.
---
Was this article helpful?
---
What's Next