Share feedback
Thanks for sharing your feedback!
Overview
Communications is another Value Added Service available on the Delhivery One platform. Using this service, you can set up an active communication channel on whatsapp, through which you can keep your customers informed about their shipments by sharing real time tracking details and updates.
---
In this article you will learn
---
What is Communication VAS?
Delhivery One provides a full stack communication service that comes with pre-seeded message templates on the platform and sends real time shipment updates to your customers via Whatsapp on the following occasions:
Forward Shipments
Shipment is not delivered (NDR Verification) - When a shipment is undelivered during an attempt due to some reason, a whatsapp message is triggered to the customer. Each NDR reason has a different message template and the customer responds to the delivery agent's remark. Based on customer response, the shipment is either re-attempted or canceled. This helps in improving your delivery success rate.

Shipment Manifested - When a shipment has been assigned to Delhivery for shipping along with a tracking link for the consumer.

Shipment Picked up - When a shipment has been picked up by a delivery agent and is enroute to the customer's location

Out for delivery - When a shipment has been dispatched from the destination hub to the customer's address and the delivery is attempted for today

Shipment Delivered - When the shipment has successfully been delivered to the customer
Reverse Shipments
Non-Picked up Report (NPR verification)
The reverse shipment is not picked for some reason

Reverse Shipment Manifested
When the reverse shipment is assigned to Delhivery for pickup

Reverse Shipment Out for Pickup
When reverse shipment pickup will be attempted today

Reverse Shipment Picked Up
When reverse shipment is picked up and is on it's return journey
By activating this service, you can enhance your post purchase experience for your customers.
---
Where can you activate this service from?
To get access to the Communication Services,
Navigate to Services > Value Added Service > Communication. Click Activate.
On next page, click Add for the shipment stage you want to enable this service for.
View the communication template with Preview option.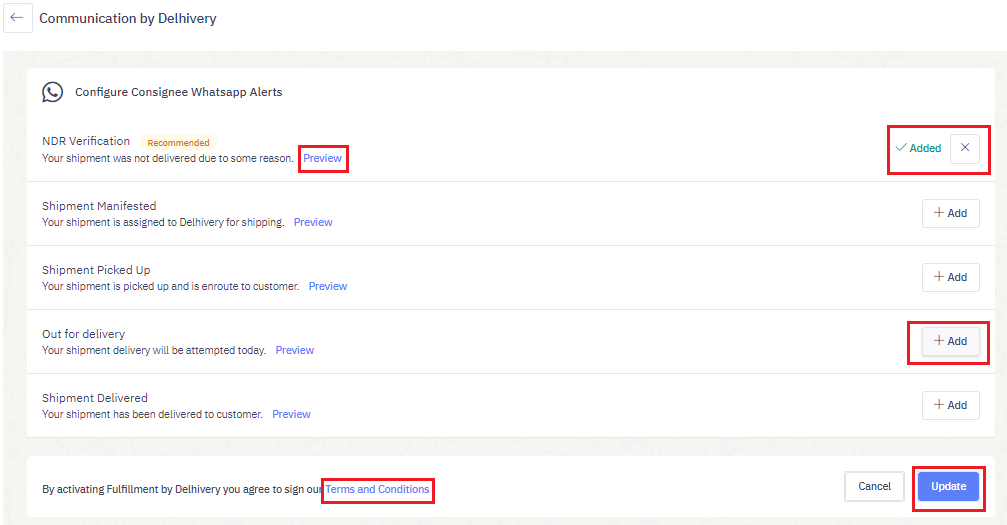 Read the Terms & Conditions .After choosing the required options, click Update
To deactivate any of these services, click on 'x' and then click on Deactivate.


This is how you can activate the Whatsapp Communication services at different stages of the shipment journey for your customers.
---
What's the pricing for Communication VAS?
The following are the billing details for activating the communication service on your Delhivery One platform.
For every activated communication event, we charge ₹1/- plus GST per delivered message.
The billing cycle runs every 15 days, and the invoice is sent to your registered email address.
For prepaid clients, the invoice amount is deducted from the client's existing** Delhivery wallet balance**
---
What kind of report can I get for Communication VAS?
You can access a NDR Whatsapp Verification Report that helps you verify non-deliveries and take appropriate action for that shipment.
To download the NDR Whatsapp Verification Report navigate to -
Main Menu > Reports > Schedule Report
Select NDR Whatsapp Verification Report
Enter the required details like Report name, Recipients email IDs, Report frequency, and Report timing
Click Schedule Report
To learn more about Reports, click here
---
Was this article helpful?
---
What's Next