Share feedback
Thanks for sharing your feedback!
Overview
Weight mismatch is a common occurrence for any business shipping online. At Delhivery, we want to minimize the inconvenience to help our customers. This article will help you understand a weight mismatch, how to reduce it, and how to raise a claim in case of a weight dispute with us, should the need arise.


How is Weight estimated?
This section helps you understand the difference between 'Volumetric weight' and 'Deadweight'. These two terms are used to determine the chargeable weight of your shipment and are often the primary cause of a weight mismatch during shipping.


How to raise a claim in case of a weight mismatch?

In the event of a weight mismatch, where you disagree with Delhivery's assessment of the weight, you can always raise a claim on the Delhivery One platform for a quick resolution in two ways:
1. Click on Disputes on the dashboard's left panel and tap "Weight Mismatch."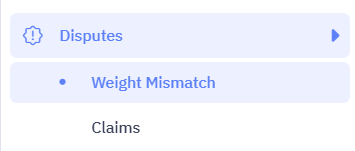 2. On the Weight Mismatch page, you will see the columns below: Select the concerned AWB and tap "Raise a Claim" on the right side. The Raise Claim option is available for delivered shipments only.

For prepaid clients, the initial deduction happens during mani

festation. If any weight mismatch and weight slab change is found during the in-transit or delivery stages, the previous amount will be refunded along with a deduction of the revised amount.
3. After clicking on Raise Claim, you will see the below screen.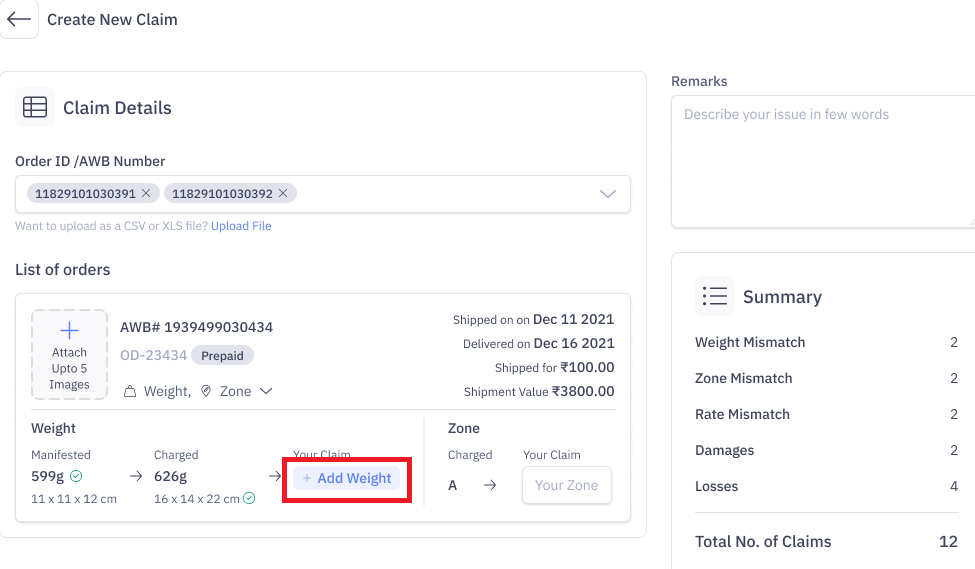 4. To submit your claim weight, click Add Weight. Mention package weight in grams and package dimensions in cm. You you also add package images. Click Raise Claim.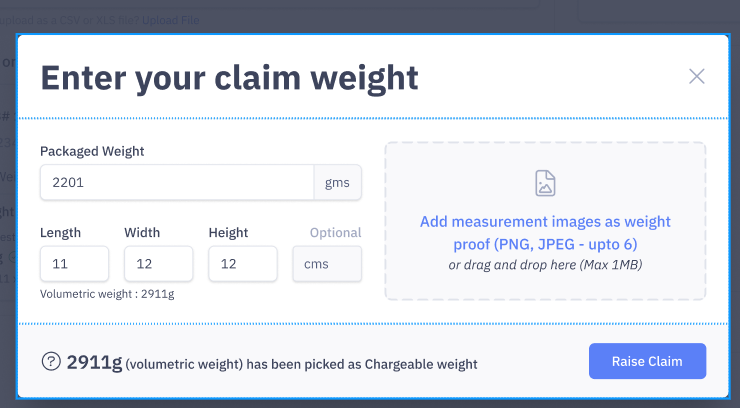 Tracking your claims
A Claim ID will be generated after raising your claim on the Delhivery One platform. You can view the status of each claim by clicking on the CLAIMS options under the Dispute Section.
Open Claims: These claims are sent for reconciliation and are pending an update.
Closed Claims: These claims are the ones on which the action has already been taken, and remarks have been updated.


How to raise a support ticket for auto-rejected claims?




You can raise a support ticket for auto-rejected claims by navigating to -
Main Menu > Disputes > Claims > Closed Claims
Tap on 'Need Help?' for the required claim
Update the required information in the description or attach files & tap on Raise this Issue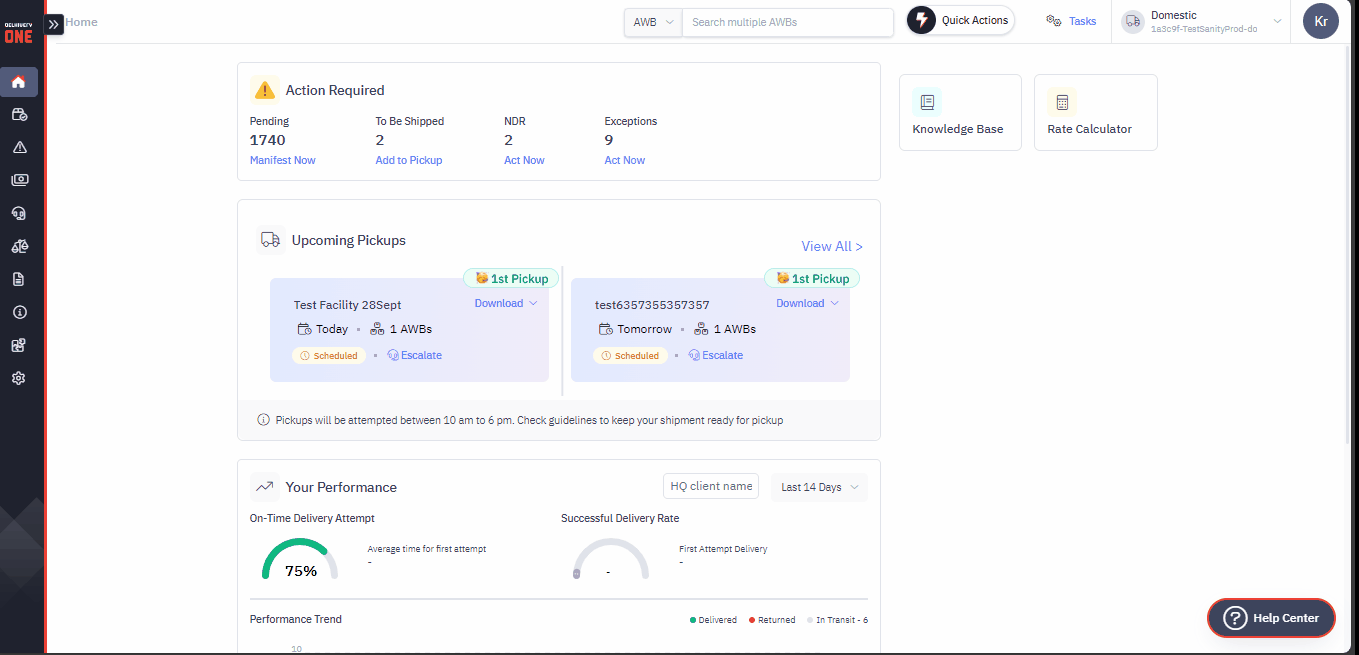 How does Delhivery capture dimensions and deadweight?
Delhivery has large hubs and sorting centres where your shipment goes through conveyor-based sorting machines that automatically capture the weight and the dimensions of the shipment using image scanning technology. Additionally, our algorithms work on validating this by using product descriptions provided by you and your history of shipments with us.
What is a weight mismatch? When does it arise?
Weight mismatch usually happens when the order manifested weight you provided does not match the weight when measured by Delhivery. This can lead to multiple issues in the shipment journey, like being billed extra on the shipping costs and causing delivery delays.
How to prevent weight mismatch?
Weight mismatch can be detrimental to your business processes and customer experience, and hence, to avoid it, we recommend the following preventive steps:

Enter your packages' correct weight AND dimensions (length, breadth and height) while manifesting (booking) the order on the Delhivery One platform.

Use packaging material proportionate to the size of the package you are shipping. Otherwise, it may affect the volumetric calculation of the shipment, leading to an increased cost for you.

Remember to click shipment images as proof in the event of weight mismatch.

Add accurate product descriptions while manifesting (booking) your shipments with us.



---
Was this article helpful?
---
What's Next